Google Chat History. Jul 16.
6:56 PM
me: someone* in our foodie group had this craving for momos
which meant that my entire day was spent trying to ask every Nepalese helper around work where to get momos
6:57 PM
Sheban: i don't even know what a momo is.
sounds like a japanese fluffy toy
me: wait me show you.
…let's not get into japanese toys.
6:58 PM
Sheban: yeah, don't google that. you'll be shocked. :p
6:59 PM
me: http://duguzzle.blogspot.com/2010/04/justified-ancients-of-momo.html
james brennan has done a good overview
7:00 PM
Sheban: omg…
they're like tiny little featherless chickens
7:01 PM
me: what?!
no they are not!
Sheban: momos!
7:02 PM
me: hahhahhaa i'm posting this up when i review momos!
that's awesome
Sheban: lol …
but look they DO look like that
7:03 PM
me: you've given me my blog title!
Sheban: LOL
accidental creativity is the best.
*said someone is Mishti, the lovely blogger from stovetopdancing who sparked off this mad hunt to find momos in Dubai a week ago.
Sheban's got an eye for photography that converts reality into art through a camera lens. He's one of those ridiculously talented photographers who'd been introduced to me just so I could gawk over his striking black and white photography, feel utterly overwhelmed and incompetent, and subsequently melt into a bubbling green gloop of bitter jealousy.
Sheban does not have an eye for momos. From what angle do these Tibetian-inspired Nepalese dumplings look like tiny little featherless chickens?? unless we're thinking of crouching featherless chickens…like midget crouching featherless chickens…wearing translucent spandex bodysuits.
Anyhoo, I stuck my fork into these dumplings at a little restaurant in some colorless building on a side lane off of another side lane in some traffic jammed pocket of old Meena Bazaar in Bur Dubai.  On floor -1.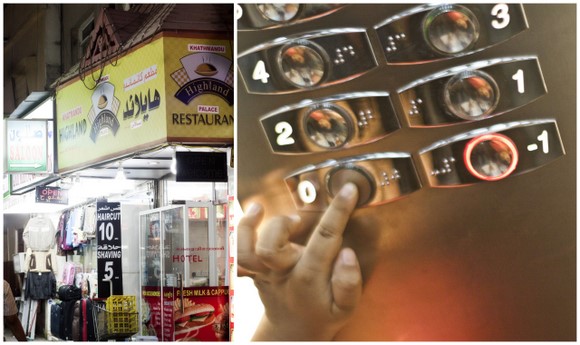 Fresh chicken momos from the kitchens of Khatmandu Highland Palace restaurant. One look at them, and suddenly it didn't matter that I'd never tried a momo before (I'm not counting the tasteless rubbery ball bobbing in the oily water they called soup at the Delhi airport. That incident never happened.) My body just switched into autopilot mode: dip into chutney, pierce through thin doughy skin with jaws, feel warm steam gush out and fog up insides of mouth, and catch tiny flat ball of soft mushy chicken meat that plonks out of dumpling skin onto tongue.
I can't actually remember what the chutneys even tasted like – maybe one was a mild chili one and the other was an even milder, I was told peanut?, one. The chutneys don't really mingle with the mushy chicken insides, they just silently slither off the slippery dumpling skin and down your throat, even before your doughy, soft, mushy, steamy momo experience has begun. Next time I'm doing my momos chutneyless.
The veggie momos were…I don't know. I abandoned them once the chicken momos rolled onto my plate. Note to self, reserve tummy space only for the memorable chicken momos at Highland.
A more indulgent take on the steamed chicken momos were these deep-fried crunchy ones.
You'd think I'd have done a little somersault of happiness when these hit the table…but I didn't. A thick crunchy shell is way too overpowering for something as delicate as a momo. I'd happily still eat golden brown crunchy shells…
…but I missed the pliable chewy steamed momo skin. So instead of eating them, I got my dinner buds to erect a deep-fried momo tower with me.
Highland even had buffalo momos on the menu. Google in fact dredged up a few sites which suggested that water buffalo momos are the most authentic form of Nepalese momos…sadly, the restaurant didn't have any. It seemed like a token mention on the menu, a nostalgic reference to traditional ground buffalo goodness from a hometown far away. In fact, the restaurant lacked every item on their Special Nepali section – you'd be better off just asking the server to bring you a plate of whatever they have going on in their kitchen. Which is sort of what we did, and we got:
As a consolation prize for the missing buffalo momos, stir fried strips of buffalo meat with dry onion masala [top]. Looks like tree bark? It is like tree bark. I don't possess the sort of Herculean teeth needed to chew through these bark-like buffalo meat strips, so I just slyly spooned off some bits of the tangy spicy dry masala and moved on to other more teeth-pampering supple treats. Like these chest-scorching chat-masala drenched potatoes [lower left].  The dish was lethal – not because of the chili, but because of the crazy dose of heaty Indian spices that the potatoes had been tossed in. I cried like a baby and left an Everest of crumpled, sweated-into tissue paper all around my plate. The chowmein noodles [lower right] were so forgettable that…huh? whazzat? what was I saying?
Getting back to the good stuff that was right up there with those chicken momos, let me make your acquaintance with piping hot nuggets of chicken sekuwa. Each tender steaming chicken cube had this super crisp outer coat of marinade, or spices, or I-don't-know-what but I want more, I WANT MORE.  I wanted to pile them all up on a fork and do a massive crunch right through multiple nuggets all at once.  And so I did.
You know what I love about little hole-in-the-wall places like this? That you can go all kooky [I did.] and eat with your hands [I did.] and double-dip [quite sure I did. sorry co-momo-eating pals.] and weep over potatoes [I'm such a pansy, I did.] and build deep-fried momo towers when you're too stuffed for more […]
Oh, and if not for my fellow bloggers, @chiragnd at naihar and @dinamurali (and her cutsey family) from accordingtodina, I'd have been chowing down on those momos all alone. So thank you guys, I <3 momo munching with y'all.
Khatmandu Highland Palace Restaurant
Near Astoria Hotel, Opposite Highland Supermarket, Meena Bazaar, Bur Dubai. [Probably best to ask the guy who picks up the phone to come and get you from the Astoria. He seemed super friendly and ever-so-willing to personally walk me over!]
Phone: +971 (4) 3536398 ||+971 (55) 1742232