Iraqi Masqouf (or Masgouf) is one of those unique, exotic foods you just have to try in the city. It may not be the most spectacular fish I've eaten over the decades, but it's definitely an experience that I'd recommend to anyone living in, or visiting the city. If you're a Masqouf newbie, learn from my fishy follies at Al Bait Al Baghdadi from last week and make sure you…
Get a big hungry group. Or starve yourself for a week. Or both. When we're talking Masqouf at restaurants in Dubai, we're often talking about a fish that's over two kilograms of body weight. Probably carp, and typically hauled in to Dubai from the shores of Iran rather than the more distant Iraq. This beast is going to need all the chomping power it can get.
Call the restaurant 45 minutes in advance of your reaching there so you can pre-order the Masgouf. Salting the massive fish and spearing it takes about a minute, but cooking it next to the flaming wood and charcoals takes at least an additional forty-four. I'd rather have the fish ready when I get there, than eat my nails to bits while watching fellow tables plunge into their ready-&-served fishy feast.
Park yourself at a table that's big enough to fit a 2 kg fish. You've hopefully come with a large enough group where this will naturally be the case – but if you're a hungry twosome or a single starved individual, a romantic table for two ain't going to cut it.
If you're at Al Bait Al Baghdadi and the servers ask you what you'd like to eat with your fish, pipe up and ask for Fish Stuffing. Don't bother asking them to give you 'the usual' or 'what's typical' – the servers may completely gloss over recommending the fish stuffing to you. So take the initiative and jolly well ASK FOR IT. I'm not sure whether the other Iraqi restaurants in the city prepare fish stuffing, or call it by a different name – so if you don't see it on the menu, attempt to ask for the "tomato and onion gravy."
More on this suspense-inducing checklist item later.
Eat the pickles. They're unique – very different than the crunchy colored fare you get at Lebanese restaurants. The ones at Al Bait Al Baghdadi were more uniformly dirty green, and far more moist and peppery than what I've had elsewhere. There's definitely some sort of evasive spice kicking in there that I couldn't fathom even after repeated ponderous tastes. Subsequent google sleuthing makes me think that it may have been all spice. Whatever it was, try it. This is one of those few places where the nagging eat your greens adage doesn't spank your taste buds all the way to the Prison of Peas.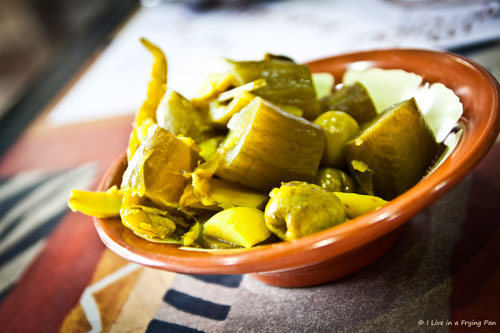 Once the fish has arrived, and you've had your opportunity to stare at it, click photos of it, ooh and aah at it…after all the drama is done, sit back and let the server carve it up for you. The crackly golden skin cloaking the fish doesn't just have an inviting layer of tender flaky flesh within – but it also has some hideous giant as well as dangerously tiny bones underneath that the experienced servers know how to hack around best. For those self-proclaimed Hercules amongst you – I know there are a few out there reading this – it's those small bones that will come torpedoing at you like toothpicks into your eye if you hack at the fish in a show of primal bravery.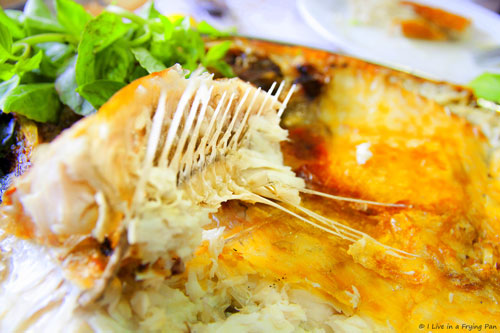 The texture of this fish is King. The crispy sweating skin on the top belly of the fish, the bitter charred underside that faced the direct scorching coals, the tender white slivers of fish meat that will release the salty breeze of the beach in your mouth as you chew through it…all of these deserve to be first tasted and savored plain, without the bread, without any salt or lemon adulteration, just so you can appreciate the art of how the monstrous fish is cooked through and through, to soft, evenly-roasted perfection.

 
Once you've done your due diligence of the fish texture, point your tines in the direction of the aforementioned Fish Stuffing: tomato, onion and spices that have been sautéed into a rich, chunky salsa. This is the substance that transforms the otherwise white bland fish into a red receptacle of sour tomato flavor that will pinch your inner cheek and make it salivate sloppily onto your tongue.
None of the popular online restaurant reviews that mention Masqouf in Dubai have revealed this method of lathering the fish flesh with robust tomato flavor. The one exception would be D's review, and that's because we discovered the stuffing together – ironically after we had already finished the meal. We spent our entire lunch trying to impart flavor to the bland fishy innards by immersing them in malt vinegar, fresh squeezed lemon and salt – but something still felt amiss. Even when we prodded the server for something tomato-based, he kept the stuffing locked away and instead brought out a lip-pursingly sour Amba, or mango chutney that didn't really do the trick.
Amba, or Mango Chutney 
A final perusal of the menu over a cup of Iraqi tea made me realize that there was something called Fish Stuffing. Intrigued beyond all hell, we ordered some to take home and consume with the leftover fish. Now that I've tasted the vinegar bath, the lemon lather, the salty scrub, the mango makeover, and the stuffing shower, I can safely say: Go straight for the fish stuffing, because it's exactly that sort of magnanimous flavor that meets this fishy giant head on.
Go in with a DSLR camera, or with someone who owns one. I've noticed that a big camera tends to invite server-modeling in a lot of Arabic restaurants, and at Al Bait Al Baghdadi it even wins you rights to enter the flaming Masqouf sauna room (hence the first picture up on this post – taken just in time before I melted into my shoes with the scorching heat.) If you're sufficiently gracious with the number of photos you click, the chefs may humour you with excited tanour bread flipping and baking acrobatics, or steer you through other interesting bits of their open kitchen aisle so that you can give them due lens attention. I really feel like I need to go back and give them their glamour shots.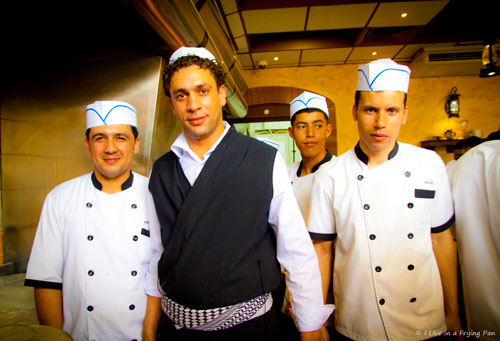 Drink a glass of strong black cardamom Iraqi tea. Or drink two, cause it's free at Al Bait Al Baghdadi. And because that's the least you can do to help your internal organs digest whatever portion of the colossal fish you managed to consume that day. Till the day restaurants realize that stretchers would be a fabulous way of helping overstuffed customers wheel themselves out the door, till that day, tea will continue to be the cure for all gluttonous hangovers.
Al Bait Al Baghdadi Restaurant
On Al Muteena Street, Deira, Dubai
Phone: +971 (4) 273-7064
[They also have a branch in Sharjah, near Al Majaz Park. Phone: +971 (6) 559-8844]