Continuing from Reconnecting with Mexican food in NYC, Part 1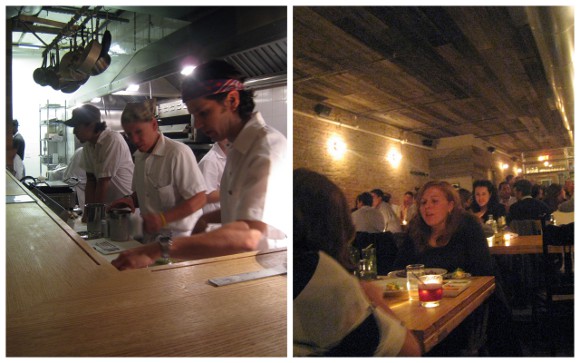 Hecho en Dumbo showcases an array of small plates called antojitos, or 'little cravings,' for those indecisive moments in a foodie's life. This is the kind of place I'd love to come to with a huge party of people, so that I could try one of everything, starting with their basic guac and chips and building up to more complex dishes like their Picaditas de Jaiba (a duo of stone ground Yellow Corn Masa medallions topped with shredded Dungeness Crabmeat, ripe Avocado, and a drizzle of Jalapeno oil) or their Cangrejo Xel-Ha (fried Chesapeake soft shell crab nestled upon a cool saffron-yoghurt slaw with pickled ramp, radish, cucumber, avocado and chile habanero), or their many burritos and tacos and sopes (stone ground corn masa medallions with black bean puree, house made crema fresco, crispy romaine lettuce, and powdery Cojita cheese).
For now, my omnivorous friend and I skimmed off some of the tastiest veggie-friendly plates on the menu, with their…
Creamy heap of fresh guacamole, with tortilla chips that were thick, substantial, perfectly fried pockets of supreme crunchiness


Crema de Palmitos, a cool summery soup made out of hearts of palm, and garnished with chayote squash  


Ensalada Tricolor, with three piles of crunchy marinated veggies – radish and jicama, carrot and parsley (my favourite of the three), and cucumber with mint – sprawled out on sweet slices of ripe mango


..and lastly, the Tacos de Rajas con Queso, that arrived as soft, warm mini tortillas served alongside a flavourful mush of chile poblano pepper and sautéed onions, melded together with gooey queso chihuahua . A  joyously cheesy ode to vegetarianism.


It's worth mentioning that the service here was super friendly, with the server giving us great recommendations, and enthusiastically replenishing our pile of chips as well as the stack of warm tortillas for our chile poblano taco plate on request. No snooty server grimace or ''that'll be a dollar extra'' that could sometimes be dished out to you on busy nights at popular joints in NYC.
My only regret was that I didn't have a chance to experiment with some of the carnivore-friendly plates that night – though to be honest, the veggie plates were so yummy that I didn't really miss the meat. But next time I'm in NYC, I'm going to have to make a return trip with an army of fellow gluttons to conquer the rest of my unfulfilled little cravings on the Hecho en Dumbo menu.
Hecho en Dumbo
Phone: +1 (212) 937-4245
354 Bowery, New York, NY, USA
www.hechoendumbo.com