I'm sorry. I can't write you a restaurant review today. For the past 10 days, my thoughts have been muddled between Dubai, New York, and Beirut. Too muddled and too sentimental to pen out a staid restaurant review. Instead, here's my murky stream of consciousness. I warn you, it's long. And there's nothing yummy at the end, except a feeling of self-assurance that there is, at some personal level, a way to belong in Dubai.
The cause for my mental muddle is a book I've recently started reading, Jasmine and Fire: A Bittersweet Year in Beirut, a memoir penned by the American-born, Lebanese-blooded Salma Abdelnour whose family fled Beirut during the civil war and settled in Houston. Despite successfully establishing herself as a food and travel writer years later in New York, questions about where she belongs—New York vs. Beirut—linger in her mind. Her voice weaves through questions of global citizenship, personal relationships, the Middle East political crisis, Lebanese society, and my favourite bits that I've highlighted for posterity, authentic Lebanese food served within the context of social experiences, sight-seeing trips, emotional recharge sessions. Chapter after chapter, I'm shocked that the inner voice in my head has leaped out and scrawled itself across the pages of the book. But the words are Salma's. The experiences are hers. And questions that I had discreetly locked up in a corner after I gave up New York for Dubai—the former being a place where I started a high-powered consultant's life, the latter where I spent my childhood, neither of which I can claim as my 'ancestral home'—those questions have now come crawling back unanswered, those questions are hers too.
The only difference is, unlike Salma who is Lebanese, I'm not even 'originally' from Dubai. I'm one of You, one of those for whom the city is a transit point in life, or a city where some of us have spent our entire childhoods, even born in, but where we will never be citizens, or the city where we could have lived for a few years, or for thirty years, but when I retire, I will go back to my home country. The question of figuring out where I belong, or how to belong in such a transient city, even if it's a not a lifelong choice, but a choice that impacts multiple years and relationships of my life, that question becomes doubly important. And heavens, I don't want to wait till I'm old and crackly before I can return "home" and feel that evasive sense of belonging to a city.
And if I did belong in Dubai, what would I be? A Dubain. or a Dubaiite. or maybe, a Dubaiati. See? This is what I mean. It concerns me that there's no such common word even when you've figured out how to belong.
My internal muddles and taxonomical struggles aside, what struck me most was how Salma wears her way into the fabric of a city.  Walking, and Food. The two elements that made me a summer citizen of Philadelphia back in 2006, that still pinch me with an inexplicable pang of bittersweet longing when I think back to my years in New York, that make me reminisce fondly about San Francisco even though I spent a grand total of 25 hours in the city, that leave me wistful about a trip to Seattle in 2010 to roam the cafes and farmers markets with a childhood friend, that ensured that I never felt at home in Houston—a place with a decent food scene, but non-existent walking culture.  With my feet, I'm already starting to feel like I own the city again, at least in some small way. I'm memorizing it physically, learning the routes. Route/routine….I need routines to feel at home. More and more they're taking shape, my routines, my routes. (Salma Abdelnour)
Very few people use walking as a daily mode of transport in Dubai. It's ironic. We're a city of sloths, especially during the summer. Slink around in malls. Cling lazily to the escalators. Waddle our way from our airconditioned offices to airconditioned malls. Faced with a short flight of stairs, seek refuge in the elevator to go up one floor in the gym. In my years of living in Dubai, I've only been known to slither across the street for my shawarma fix a handful of times. Why bother, when the shawarma guy can deliver? The only time we transform ourselves from sloths to swift-footed cheetahs is in our cars. Suddenly time becomes of the essence when we can delegate speed to the wheel.
But in all fairness, the city hasn't been built for pedestrians, and the sun will toast you to a crisp should you venture out in the summer. Even if the weather was good, walking through the city just doesn't have the same charm as it does in ancient cities of the world, where every turn and every corner is its own interesting microcosm of life, culture and sights. We don't have food carts selling fruit and sauced-up ethnic eats and puff pastries spilling out onto the street, and we don't have the sort of animated street life that can be your friend as you roam solo through the city. Dear New York, I miss walking down your 1st avenue on Saturday mornings, from my apartment to the Union Square farmer's market, waving at the sweet Nepali ladies painting nails at my neighbourhood manicure parlour, eyeing the coffee cakes at the local deli, having my face pricked with ice-tipped air, watching mommies pushing their prams in the direction of the park, all the while munching a toasty bagel, scooped out and slathered with scallion cream cheese, washed down intermittently with a cup of warm coffee from Ess-A-Bagel. (Me.)
Walking through New York, or a place like Puerto Rico back in 2008, felt as easy and natural as gliding through butter. But walking through Dubai, that can feel as stilted as plunging a spineless plastic spoon into rock-hard ice cream. If you're into the sort of long-distance, two to three hour walks that Salma winds through in her books, the kinds of long walks that would be a Godsend for the chronic diabetes and obesity problem in this city—for those kinds of walks, you need to plan. And even if you did plan them, they might be fun, yes. But magical? That's hard. Not impossible, but hard. There are pockets of Old Dubai that still have a charming, even lyrical, quality to them in my mind. Rigga, Muteena, Souk Al Kabeer, Gold Souq, Naif, Meena Bazaar, Hor Al Anz. Those areas are not everyone's hat of magic, that's for sure. I once took a friend into Naif, and she commented: this is just like any other crammed part of Dubai. It broke my heart. Not just because she had shattered my one hope of finding a place that felt more authentic than much of glass-sheathed Dubai, but because her words did contain a miniscule element of truth. Few places in Dubai have the same pedestrian appeal that Little Italy or Chinatown or Soho would have in New York. Which brings me to the bigger question, why on EARTH don't we have a Chinatown in Dubai? No, Dragonmart doesn't count.
While plotting my own personal walking routes through the city may be a multi-year conquest, I will give Dubai credit for its incredible, easily accessible range of food options. For an arid stretch in the desert, the city has outdone itself. And for all the negativity around crappy service and lack of originality and exorbitant restaurant prices and hyped brands—negativity that I've been known to harbour quite vocally in the past—I will admit that I've figured out an edible niche of Dubai that keeps me vested in the city. Writing—and more importantly, exploring and experiencing cultural gems in the city under the pretext of this blog has made me feel grounded in Dubai in a way that no job or outrageous shopping spree has yet made me feel. For every quaint bubble tea house serving up exotic flavoured tapioca-bobbing beverages in New York, I'd reckon there would be a little Indian joint in this city pouring out lassis so creamy that they may as well have been churned all the way to becoming thick butter.
As I've crawled deeper and deeper into the hidden foodie jungle of Old Dubai, asking, unearthing, discovering, learning, not just about the food, but about parts of the city that I hadn't even visited as a child, I've gradually started loosening a few of the strings that kept me knitted to New York. I  loved the search, the ramble, the mission fulfilled. (S. Abdelnour) Maybe that's one of many reasons I have my heart set on making Frying Pan Food Adventures come to life. Even if all the upfront legal paperwork and financial investment is huffing and puffing on my eagerness like a big grumpy dragon, I want to bring to Dubai those edible explorations that have helped me feel integrated into the heart of the city. The thought process in honing down to a specific food, say Qatayef—Arabic pancakes folded over with akkawi cheese and nuts, deep-fried and drizzled with sugary ater—figuring out where in Dubai I can get a tray of these Ramadan desserts, then hunting them out, often getting lost multiple times until I'm hallucinating with hunger, that really makes me feel connected to the city. Food pilgrimages, to me, aren't only about the food, or the trip. It's not just that I love to eat and to wander around. Even a relatively short, taxi-assisted trek to Sahyoun, and a winding stroll back, after having found the thing I was looking for—no matter whether I enjoyed the food itself or not—makes me feel recharged. Meandering through the city, taking in the sights and sounds, and reflecting on my day or my life or whatever other subject floats through, clears my head, It's a mobile meditation, with an edible reward at the end. (S. Abdelnour)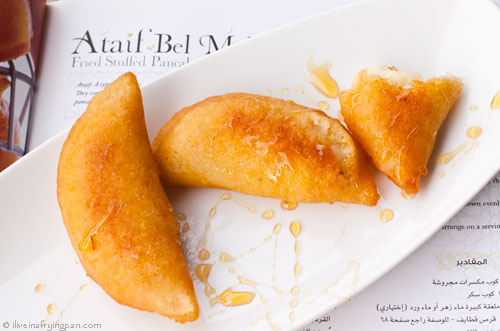 I've never visited Beirut. But Salma's writing has had me craving manoushe and labneh and eggplant fattet in a way that has drastically increased my spend with my neighbourhood Lebanese eateries on Al Rigga. I'll make it to Lebanon someday, retracing some of Salma's trails through the city, but till then, Dubai does a decent job of giving a cursory Lebanese culinary education to the uninitiated. Most of the dishes mentioned in the book were ones that I'd tried, or at least heard of before. And that's a huge credit to the variety of food—Lebanese, and abraloads of other cultures—available here. I've had arepas, banh mi, catfish tacos, burrata, paella, dosas, fesenjan, iskender kabab, and a feast of other dishes without stepping foot outside New York. Dubai has the potential to do that for me too. I worked my way through crisp layers of Saudi mutabak yesterday, wishing that the chef had not scrimped on the halloumi stuffing and that, might he have considered pouring some melted butter over the dry phyllo-like batter? Tomorrow morning, I'll be experimenting with Yemeni Egg Malawach, a wrap plied with eggs, zaatar and a spicy tomato sauce that I hope will taste as promising as it sounds. In the evening, I'll be sitting around with family at a classic neighbourhood restaurant, pulling apart chunks of Iranian kabab koobideh and sipping on mint tea through sugar cubes balanced on my tongue. And in another two days, I'll be forking up some interesting breakfast dishes that hail from Turkey. And somewhere in the empty eating spaces in between, I'll find ways to sneak in hummus or daal or shakshouka, or maybe all of the above. That knowledge, which repeats itself in different flavours practically every week of my life now in Dubai, has reconciled me with the city in a way that I'd never have thought possible in the pit of my 'why the crap did I leave NYC' longing. The food explorations leave me exhilarated to continue hunting, discovering, and making parts of this city mine in a way that Salma made Beirut hers.
Al Afadil Restaurant (lassi)
In the lane behind Kitcherama (near Al Khan Roundabout), off of Al Wahda Street, Sharjah
Qwaider Al Nablusi (qatayef, only served in Ramadan)
Muraggabat Street, Deira, Dubai
Phone: +971 (4) 227-7760
Mutabak O Masoub (mutabak)
Under the Tehran Restaurant, Um Suqueim 2, Dubai
Phone: +971 (4) 328-2444